You're probably heard of Pininfarina, which for decades has been the design house responsible for styling some of the world's most beautiful cars, primarily Ferraris. It's far less likely you've heard the name Leonardo Fioravanti. But if you're reading this, you surely know his work.
Leonardo Fioravanti studied mechanical engineering at the Politecnico di Milano, specializing in aerodynamics and car body design. He worked 24 years with Pininfarina. At age 26, he joined the renowned design house as a stylist in 1964, and eventually became Managing Director and General Manager of Pininfarina's research arm, Pininfarina Studi & Ricerche.
Career car designers have likely worked on several cars over their career. A great car designer has worked on ones you know well and love. A truly prolific one has penned 2 or 3 that stand out as classic -- for which they are well known. Fioravanti is credited with a few models you might be familiar with. Like the 246 Dino. The Ferrari 512 Berlinetta Boxer. The Ferrari Daytona 365GTB. The Ferrari 365GT4 2+2 (predecessor to the Ferrari 400). The Ferrari 308 GTB. The Ferrari Testarossa. Oh, and the Ferrari 288 GTO. And a little classic known as the Ferrari F40.
To have penned so many timeless designs is truly extraordinary.
Many designers can tell you that often the first idea, in it's purest, most simple form is often the best. Fioravanti's work on the Daytona is one of those designs. Fioravanti worked alone on the Daytona, and without permission. Ferrari had not asked for another model to be designed. They were happy with the 275 GTB, which had been launched in 1965. Fioravanti saw a couple of Ferrari chassis in the factory and was inspired.
Fioravanti intimated, "I saw them as bare frames, but they already had V12 engines. I don't know how it came to me. I had a kind of a vision." A full-scale model of Fioravanti's ideas were carved and shown to Enzo Ferrari.
"I worked for seven days and then showed my ideas to Sergio Scaglietti. He liked them as did Mr Enzo Ferrari, and that's how I did it. I designed the 365 Daytona in just a week".
In addition to that unbelievable legacy of work, he also designed the Ferrari P5 and P6 concept cars, and project managed an additional 18 Ferrari projects.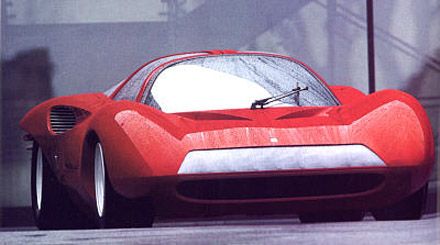 SOURCES:
Wikipedia
Wikicars.org